They say the destination is made even sweeter by the journey.
I was shown how true this is three times in a day during my vacation in Coron Island (Palawan, Philippines).
—
The first time was on our way to Kayangan lake, said to be the cleanest lake in Asia. We had to climb up (and down again) a path composed of wooden and 'earth' stairs to get there. It was supposedly a simple trek but my thighs started hurting a few meters up, and I had to exert more effort than I initially expected to get to the lake.
This is what greeted me upon getting there:
After swimming in the lake, we had to trek again to go back to the boat. On our way there, we stopped near a cave for some picture taking. When the guide first asked us about it, it didn't sound too appealing to me (picture taking in caves seemed a bit creepy). When I saw the view though…
It was breathtaking!
—
After lunch, we stopped by the Twin Lagoons. We basically went to one lagoon by both and then went down and passed by a small underground passage to get to the other lagoon. We swam to get there. And I don't swim! Good thing there was a life vest.
Once we got to the other side, the view was awesome!
We were in the middle of the lagoon, surrounded by rock formations. We 'swam' to the other side to complete the experience (I wanted to give up halfway through but didn't).
No pictures here though since we didn't have a camera that we could bring in the water with us.
—
We finished the day's tour early that day (around 3PM), most probably because we didn't snorkle that much. I suggested we climb Mt. Tapyas during the time, so we didn't have to get up at 5AM the following day. The climb was said to be 720+ stair steps, up a mountain. At the top there used to be a big cross which was sadly destroyed by the Yolanda Super Typhoon last year. Waiting for us instead was a great view of Coron and the nearby islands.
Yes, I forgot that my thighs ached on our way to Kayangan Lake (and back!). I was painfully reminded not 40 steps in, but we pushed through despite the stairs going on and on and on…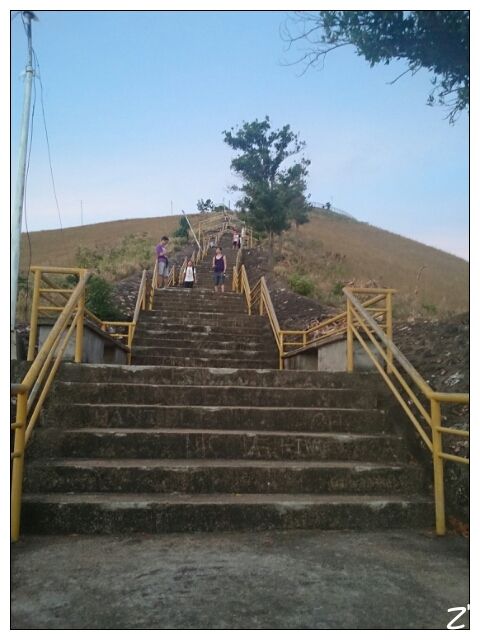 There came moments when the 'prize' at the top wasn't as appealing anymore. We were supposed to get there around sunset (which will make the view even better), but I already got great sunset views (and pictures) along the way. Add to that the number of times my legs refused to take another step and not reaching the top didn't seem like that big of a deal anymore.
But we continued climbing and upon reaching the top, the difficult climb was worth it. It wasn't just the view (which was awesome!) that made me feel good, but the fact that we didn't give up climbing. Pictures couldn't capture the whole experience, but this was an attempt: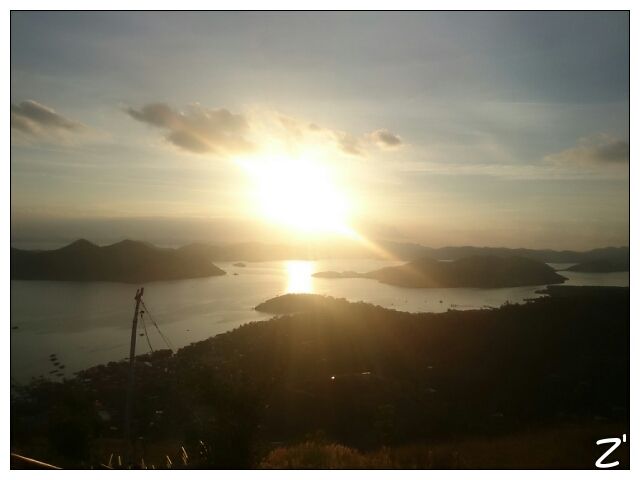 On our way down we were rewarded with yet another look of Coron: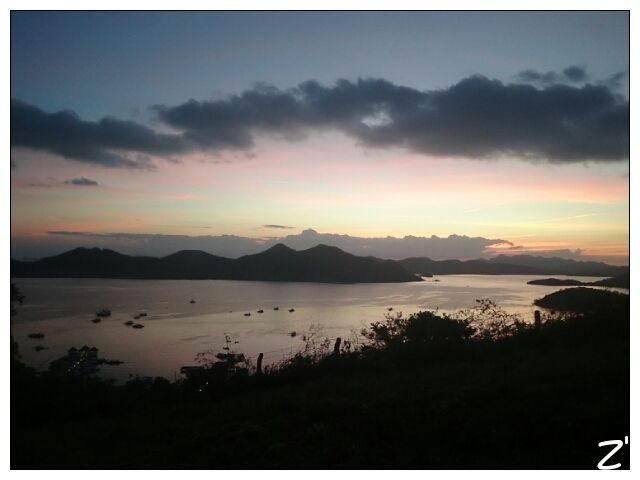 —
The day will be memorable not just because of the places visited, but the entire experience – especially the journey to get there.
Can't wait to go back!